Ok, so here recently I have really gotten into blog reading. I love checking out other blogs,especially crafty type ones.I am also noticing more and more on various blogs the whole button thing I may have mentioned it before, but I am a member of
<3Swap-Bot<3
,a swapping community that swaps pretty much everything from postcards(which is actually how I got started),crafty type items, to emails, to pretty much whatever(I recall even seeing a swap for underwear on there once....lol.Not of the used variety though, that would be nasty). In comes the I heart your blog swap, hosted by
Jex
,where you review fellow swappers blogs and then put their buttons on your page. Some of their buttons I have on the side, and then there are a few on the bottom(I like to call this my button burough),but I encourage you to check them all out: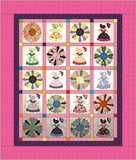 Memories Through Quilting
I have really enjoyed Vicki's blog. I am a "closet quilter",and have come to find I really dont have the time or patience to make them.But she makes me want to try.You really ought to check out her grandmothers old sewing machine that has been passed down for three generations..........
The Sweet Maple Life
First, I wanted to thank Mary for her sweet comments about me. As a homeschooling parent, I dont often get told"I admire you, or I have alot of respect for parents that do that", so its always nice to hear.Mary talks about her life,shes an american in the process of becoming a canadian so she can move to canada to be with her hubby.Seems like an interesting but annoying process.....lol.and she is crafty,which is always a plus.I will definately be keeping up........you should too.
PS she also has a digiscrapping blog
What oh What
If im a sucker for anything, its a blog with a ton of crafty ideas, and cassandras blog definately has that. Lots of ideas to get the creative juices flowing........love the clothespins!
MissMuffCake
I really enjoyed this site. What intrigued me the most is that she is a vegan, and she frequently posts vegan recipes.I have been thinking about going vegan(or at least partially vegan....lol)She also loves cupcakes, and that gets points in my book =).She also has a compassionate heart towards the homeless and unsheltered animals,which I found to be very inspiring........
Shes Crafty,shes just my type.....
This blog is about Amber, a 30 something single mom who is using crafting to help cope with her RSD and help support herself. I admire anyone who can take hardship and turn it into something beautiful.She makes some awesome things.......
Sanitys Overated
Ok Amber, I tried to add your button, and this was the best I could do........lol. Amber is a stay at home mom who writes about her everyday musings.Really quite entertaining. She has the cutest two little boys. She also reviews books she has read which I think is pretty cool(I need to do that myself).Insanity is more fun when shared with others.....lol
Jexyland
and last but certainly not least is Jex. Her blog is soo cute, it has the cutest buttons(scroll down to the bottom)like little kimono girls, cupcakes,etc. it is just full of cuteness, and has some really cool craft projects. Check out her pin cushion tutorial!
Well, thats it, I hope you enjoy, and many thanks to these girls for sharing their blogs with me =)